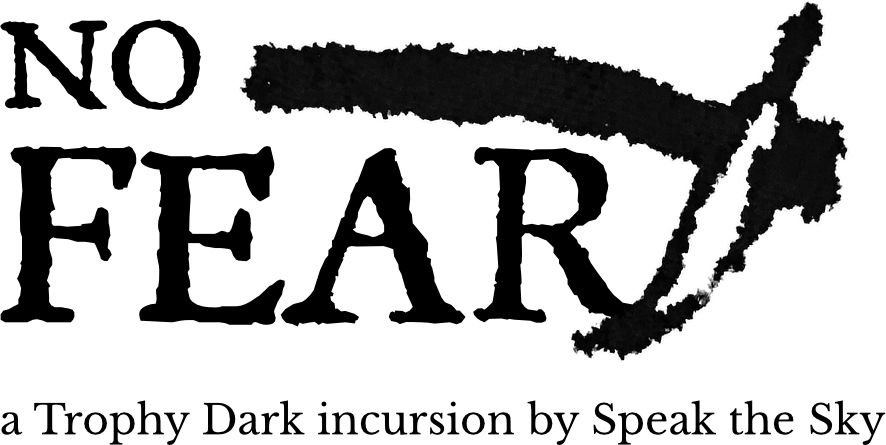 NO FEAR
"There she was, six miles of barbaric rock, snow, and ice, a throne, a cathedral, a punishment; tallest mountain on Earth and we were the first to see it. Godwin said—in that British way—"goodness, what a pretty pike!" That means 'hill' in British English. So when he died there, we named the deathtrap in his honour: Godwin's Pike.

I don't favour the chances of the body hunters, no. They've summited Everest and K2? Next rung up won't be so easy. Godwin and his team climbed right up that impossible mountain and vanished into the clouds. Last we saw, he was less than a dot. His family's offering a fortune to find the body, sure, but you couldn't pay me anything to climb a mile of Death Zone just to pick clean a corpse."

NO FEAR is a Trophy Trifolds Jam incursion for Trophy Dark, the rules-light game of dark fantasy and psychological horror. This incursion will take your body-hunt up the world's tallest mountain, eight miles from base to peak: Godwin's Pike, capped with a mile-high Death Zone. If you can find the remains of the Godwin expedition and return to his family with proof, then they'll make you wealthier than you can possibly imagine... but that's not the only reason you're on this throne, this cathedral, this punishment of ice and stone.
THEME: LADDER

The incursion guides you through the callous Terrors and Temptations of all five Rungs—from base camp to Death Zone and beyond—as well as giving you:
4 new Occupations, Backgrounds, Drives, and Rituals
6 Conditions of the wind, snow, and sky
6 strenuous challenges to tackle on the ascent

This product contains the following files:
A print-friendly trifold pamphlet .pdf
A screen readable .txt version of the incursion
Purchase
In order to download this incursion you must purchase it at or above the minimum price of $3 USD. You will get access to the following files:
Community Copies
Support this incursion at or above a special price point to receive something exclusive.
Community Copies
Each copy of NO FEAR you buy opens up a free copy for someone else who's experiencing financial hardship. If you have low or no income, feel free to take a community copy!
Download demo