Write Skyscrapers
A downloadable HTML template
What is this?
Write Skyscrapers is a straightforward HTML file ready for you to write your own ttrpg or other analog game! It's got some pre-built styles and scripts to add things like a menu sidebar, light/dark themes, and simple dice and playing card widgets—see full details below.
Functions and Features
menu sidebar (with tabs for contents, settings, and game tools)
light and dark themes
text display controls (width, font, italics)
6-sided dice roller widget (stores up to 6 rolls)
playing card deck widget (stores one deck and the most recent card)
responsive layout with 2 breakpoints for different screen widths
3 types of card oracle layouts (ranks-then-suits, suits-then-ranks, ranks-only)
a custom version of Dicier with just d6 and playing card icons, and some visual tweaks
More Functions and Features
Write Skyscrapers is basically a stripped-down version of the file I wrote for Like Skyscrapers Blotting Out The Sun v2, my 2-player game of excessive footnotes, killing the author, and woes in translation. Like Skyscrapers has a different type of dice widget (using dice as counters) and a few more text display controls (text alignment and paragraph separation) that you can copy over by copying the relevant HTML, CSS, and JS.
You can buy Like Skyscrapers here:
Files & Features
Write Skyscrapers comes in 2 forms: a full HTML file with info, advice, and links to HTML resources and a base HTML file with almost all the body stripped out, ready for you to write your own.
Share Your Work!
If you write a game using this template, or build on the template to improve its features or functions or add new ones entirely, then please post your stuff in the comments below!
Download
Click download now to get access to the following files:
WriteSkyscrapers-v2-1-base.html
58 kB
WriteSkyscrapers-v2-1.html
102 kB
Comments
Log in with itch.io to leave a comment.
This is pretty incredible!
Does this template work with pandoc?
Probably not, but you can copy and paste pandoc's HTML export into the relevant parts in Write Skyscrapers in a simple editor like BBEdit or Notepad++. The two places you'd need to copy stuff in are the table of contents (near the top of the <body> element) and the main text (in the <section> elements after the sidebar HTML at the top of the <body>).

Very interesting. Btw I have a few comments:
Don't know if it is a bug, but when you roll a die, the first one is blue while the rest are white (it seems to keep the title formatting).
Any reason you can roll multiple dice but only one card at a time? might be usefully for multiples cards to in things like: pick two choose one or choose better/worst.
I know this is free (PWYW actually) but any chance of having the other dicier dice types here too? (d4 d8 d10 d12 d20)
Screenshot: https://imgur.com/0YSimX6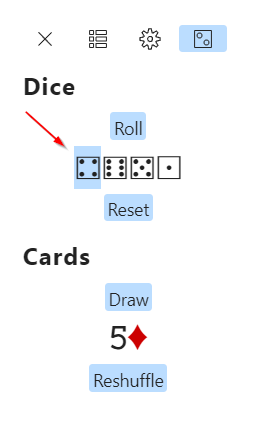 Thanks!
It's to highlight the most recent result.
The card deck widget was made for a game that generally only needs one card drawn at a time, and expanding it to let you form hands and play specific cards from those hands would take some extra time.
I can export font files with the other dice sizes and write a little tutorial on changing the font and widget.
In future it'd be neat to have more complex card and dice widgets (e.g. proper hands of cards, and choosing different dice sizes).