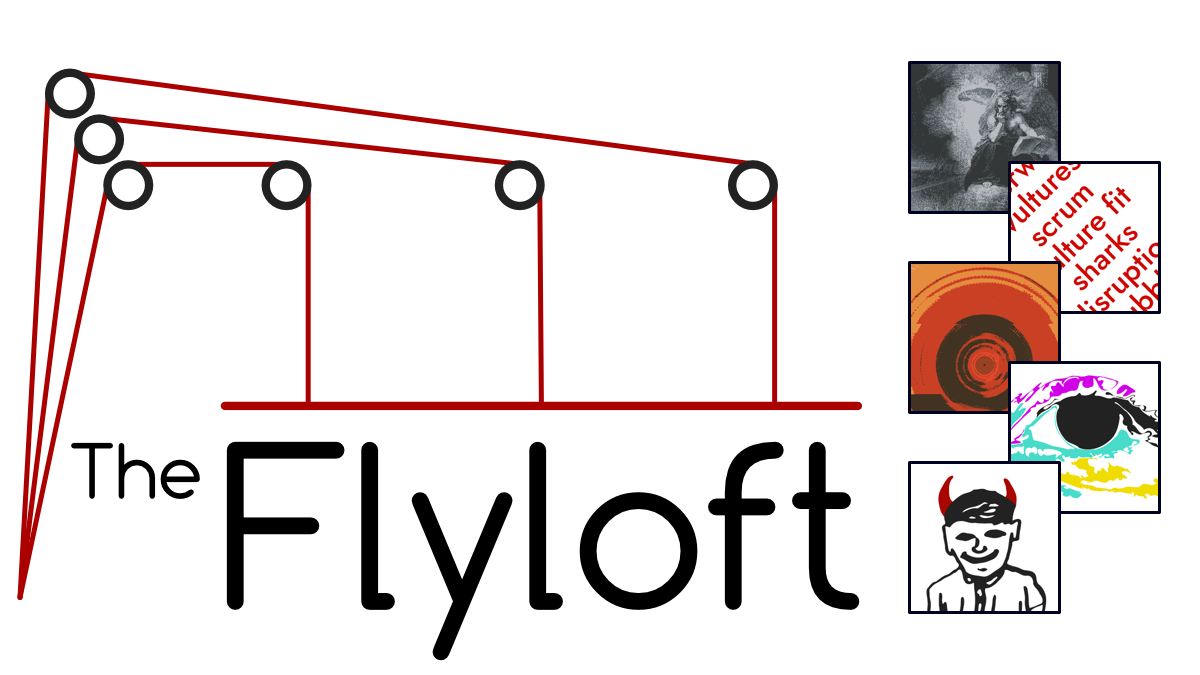 The Flyloft
Mad whalers, startup bullshit, nuclear family robots, medical trial dreamers, and devil children…
An anthology of backdrops for use with Dialect, the game of language and how it dies, or just for your own inspiration.
Backdrops
In Hell's Heart, the crew of a whaling ship find their language warping under the sway of a tyrannical, monomaniacal Captain and the awesome power of the Whale they pursue.

In The Founding, the dynamic, oppressive, and esoteric culture of an all-consuming nightmare tech startup spawns its own brand of corporate bullshit-ese.

In Imitations of Life, nuclear robots, programmed oppression, and the suburban death zone give life to a new language… for a time.

In The Trial, clinical trials using a bizarre new psychotrophic drug put the participants in touch with humanity's Universal Unconscious, where sense and thought collide.

In Rapscallions!, children discover a dread artefact of demonic power and form a secret cabal to wreak havoc, little-understanding the forces they're tampering with.
Files & Features
The Flyloft comes in 2 forms: an HTML file with custom fonts and interactive features and an EPUB file/ebook.
The HTML file is TTS-friendly, responsive to your screen size, and has a slew of display controls, from colour schemes to text formatting, plus navigation links to help you traverse the text! All this is encoded in the file itself, so you only have one file to handle, just like a .pdf.
For designers: the structure of the file is fully reusable, but, for ease of use, there's a freely-available template version (Note: based on an earlier version of this format) called Write Skyscrapers with all the game content stripped out. You'll need at least a basic understanding of HTML to work with it, but the template links to some useful resources to learn this stuff. Check it out here:
Purchase
In order to download this anthology you must purchase it at or above the minimum price of $10 USD. You will get access to the following files:
The Flyloft Anthology v1-0.epub
178 kB
The Flyloft Anthology v1-0.html
329 kB
Exclusive content
Support this anthology at or above a special price point to receive something exclusive.
Community Copies
Each copy of The Flyloft you buy opens up a free copy for someone else who's experiencing financial hardship. If you have low or no income, feel free to take a community copy!
Comments
Log in with itch.io to leave a comment.
The Thanks Veem! cookie acceptance bar is brilliant. these look really wonderful!
Hell yeah, thank you! The cookie overlay's one of my favourite little details (in hindsight I should've made it cover half the page to be more realistic).