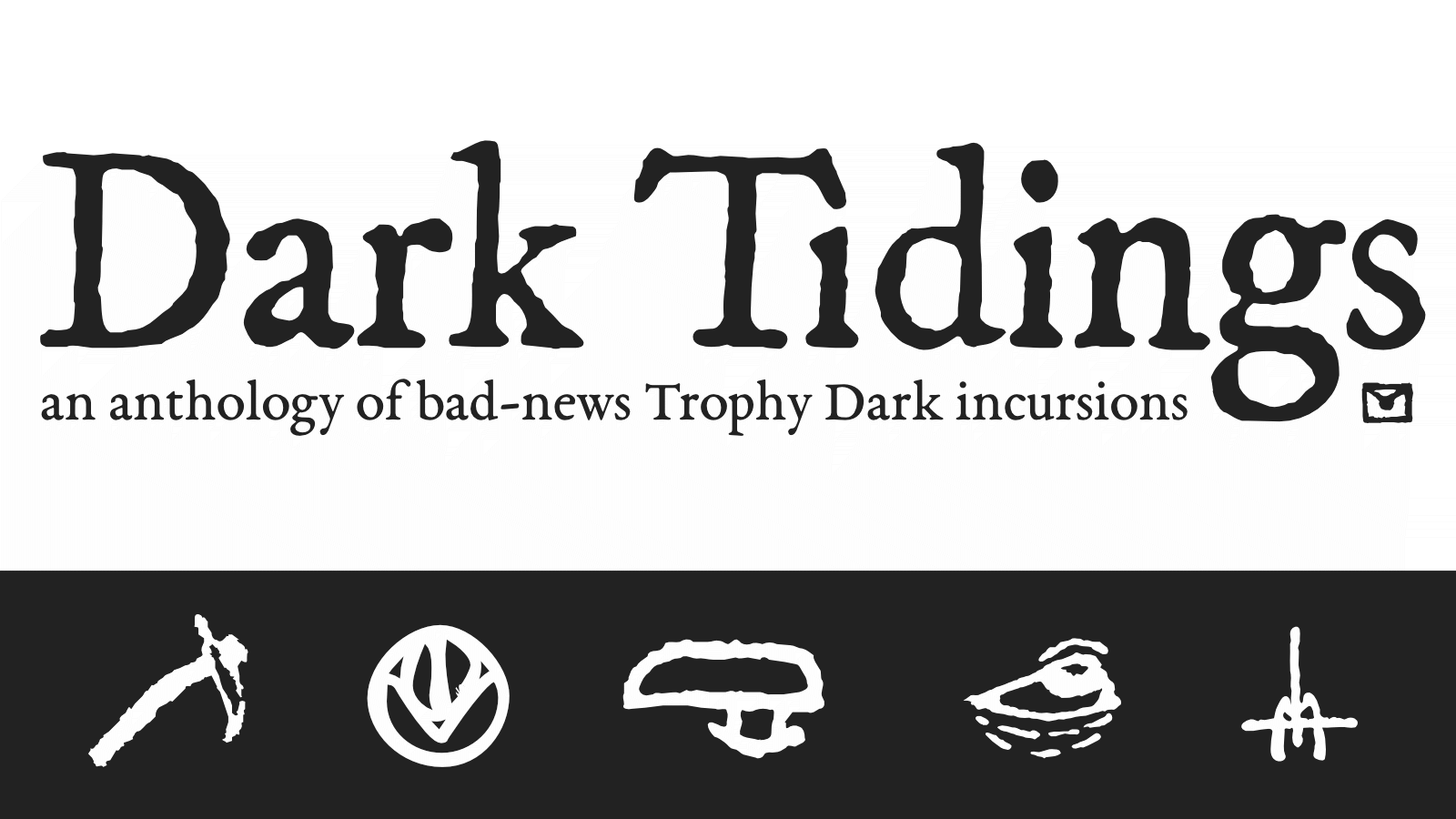 Dark Tidings
It's bad news all the way down in these incursions… body hunters, glory hunters, gold hunters, monster hunters, and the hunters who turn back from the abyss.
For use with Trophy Dark, or just for your own inspiration.
Incursions
No Fear (Theme: Ladder), in which a team of mountaineers ascend the world's highest—and deadliest—summit to retrieve the corpse of a very wealthy man on his family's behalf.

Black Star Bolt (Theme: Spectacle), in which far-future speed demons collaborate to win the greatest, deadliest, most famous spectacle of all: the supercharged murdermachine rally called the Black Star Bolt.

The Degoya Ark (Theme: Offering), in which gold hunters seek a dead priest's stash of hidden wealth in a remote corner of Degoya County, New Mexico—if it hasn't already been taken by the Hand of God.

Albatross (Theme: Reversal), an anti-incursion of bittersweet optimism in which the hunters turn back from their goals and desperately try to snatch life from the jaws of death.

The Devil of High Rock (Theme: Tale), in which monster hunters slay the titular Devil and return to celebrate their victory in the village that hired them, only to find that not everything is as it seems…
Files & Features
Dark Tidings comes in 2 forms: an HTML file with custom fonts and interactive features and an EPUB file/ebook.
The HTML file is TTS-friendly, responsive to your screen size, and has a slew of display controls, from colour schemes to text formatting! Not only that, it has navigation links to help you traverse the text and built-in generators for creating characters and rolling Conditions and Moments (or, each incursion's equivalent). All this is encoded in the file itself, so you only have one file to handle, just like a .pdf.
For designers: the structure of the file is fully reusable, but, for ease of use, there's a freely-available template version (Note: based on an earlier version of this format) called Write Skyscrapers with all the game content stripped out. You'll need at least a basic understanding of HTML to work with it, but the template links to some useful resources to learn this stuff. Check it out here:
More Trophy Dark
Purchase
In order to download this anthology you must purchase it at or above the minimum price of $12.50 USD. You will get access to the following files:
Dark Tidings Anthology v1-0.epub
169 kB
Dark Tidings Anthology v1-0.html
340 kB
Exclusive content
Support this anthology at or above a special price point to receive something exclusive.
Community Copies
Each copy of Dark Tidings you buy opens up a free copy for someone else who's experiencing financial hardship. If you have low or no income, feel free to take a community copy!