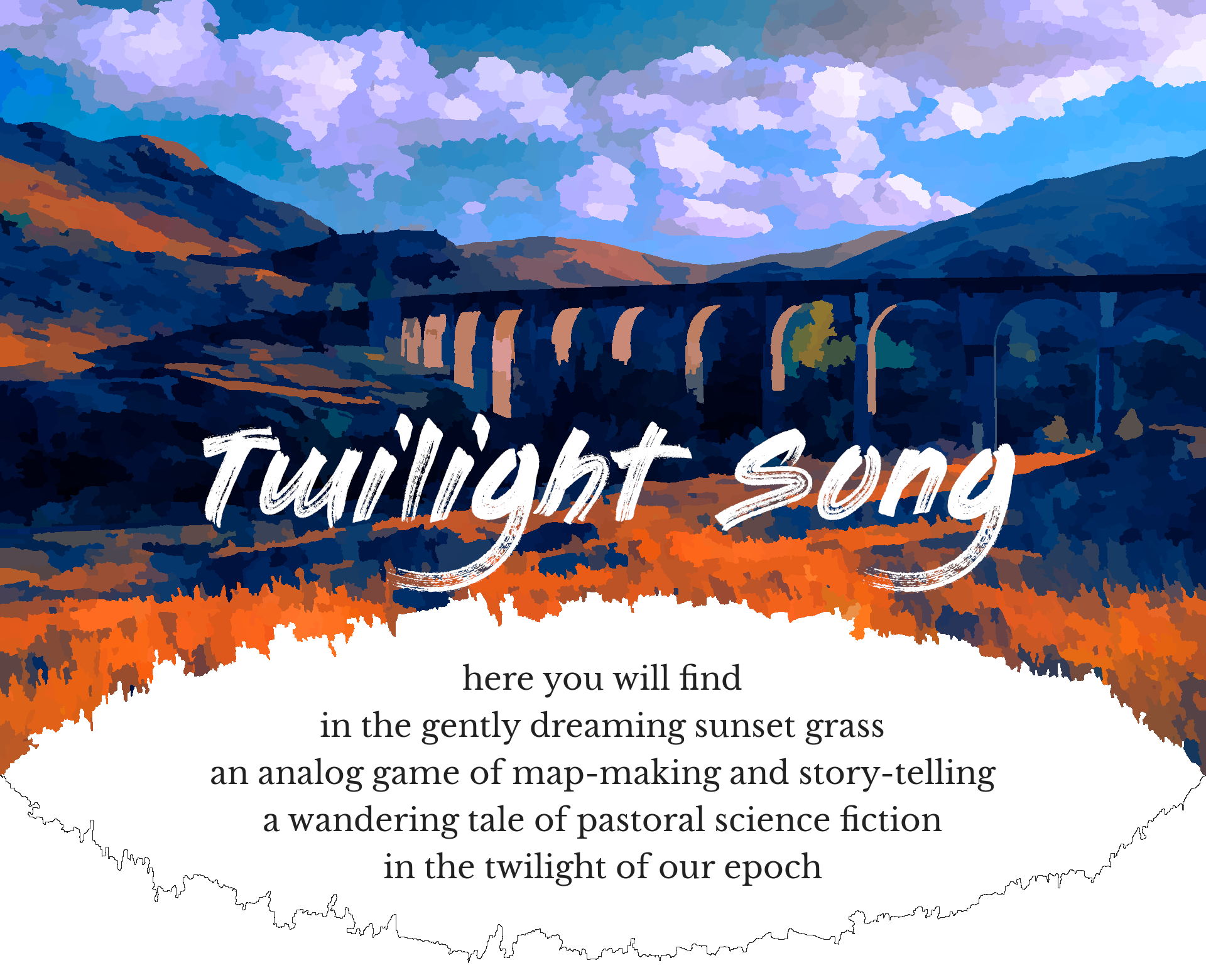 Twilight Song
A downloadable map-and-story game
Get this map-and-story game and 45 more for $25.00 USD
View bundle
Humanity thought they would go on growing, building forever into the bright blue sky. Now they know that's not true, but they're left with this: a twilight time of peace. All the time they need to live well, see children and grandchildren grow up, and understand the new world rising to take their place. When dawn comes, they may have vanished—or made a new place for themselves in the new light of day. For now, in these years, there is an opportunity to be together.



Who are you, then? You live alongside humanity, but you're different—immortal. Maybe you're a lab-grown or artificially-intelligent child of humanity, or perhaps you're something older or stranger that came out of the dark into the twilight. You live like them and with them, but time doesn't draw the same lines on your face. You're a chronicler, guide, witness, explorer, friend—this is your own immortal life to live as you see fit.

Twilight Song is a map-making and story-telling game set in the twilight decades of humanity's era. Together, you'll tell the story of an immortal narrator living among humans in this time of change, wonder, and quiet loss.
It takes gusts of inspiration from the pastoral sci-fi manga Yokohama Shopping Log by Ashinano Hitoshi, about a robot living in and exploring a world inhabited by the fading remnants of humanity, and its rules are derived from the map game The Quiet Year by Avery Alder, about a community struggling to survive and build anew in a post-collapse world—reworked to tell the story of a narrator and world on the other side of the collapse.

First you sketch your narrator's home and community on the map, adding a few landmarks and remnants of the past and then you sketch your what sort of person your narrator is. What sort of life do they lead? What habits, traditions, or rituals have they left behind? Maybe they'll take them up again, or make a new way of life.

When ready, you tell their story by narrating short episodes of their life. You'll draw cards to find story prompts on the Season Oracle, with events to play out and questions to answer, then choose:
Open Your Senses to life around you,
Learn Something about the world and its people,
or Make a Plan for everyday rituals and little adventures.
At each year's end you advance the story by anywhere from one night to a whole generation, carrying on until the deck runs dry and the game ends.


This game comes in three versions in the .zip archive:
a full-colour 26-page rulebook and a separate, print-friendly file including the oracles and a play summary
a Mobile Play Resource with both oracles and a rules summary
.txt files of the rules and oracles for screen readers
playingcards.io imports for Twilight Song

If you're looking for a darker expansion that you can play as a standalone scenario or use to introduce moments of darkness into the original game, look no further than Midnight Signal: a pastoral weird horror playset for Twilight Song!
| | |
| --- | --- |
| Status | Released |
| Category | Physical game |
| Rating | |
| Author | Speak the Sky |
| Tags | diceless, GM-Less, journaling, map, One-shot, pastoral, Queer, Sci-fi, tabletop-role-playing-game, world-building |
| Asset license | Creative Commons Attribution_NonCommercial_ShareAlike v4.0 International |
| Average session | A few hours |
| Languages | English |
| Accessibility | Color-blind friendly, High-contrast, Blind friendly |
| Multiplayer | Local multiplayer |
Purchase
Get this map-and-story game and 45 more for $25.00 USD
View bundle
In order to download this map-and-story game you must purchase it at or above the minimum price of $10 USD. You will get access to the following files:
Twilight Song v1_1 mobile play resource.pdf
563 kB
Twilight Song v1_1.zip
2 MB
Twilight Song playingcardsio table.zip
5 MB
Community Copies
Support this map-and-story game at or above a special price point to receive something exclusive.
Community Copies
Each copy of Twilight Song you buy opens up a free copy for someone else who's experiencing financial hardship. If you have low or no income, feel free to take a community copy!
Comments
Log in with itch.io to leave a comment.
What is the recommended number of players (or range) for this game?
I'd say 3-4, but you could do 2, or even 1 (though in that case you'd have to ask and answer prompts for some of the actions you can take in-game). You could also go up to 5.
Is it possible to do this as a solo game?
Definitely! I'd recommend acting as if there are 3 players during setup and the Open Your Senses action (or Listen to People variant), but just doing all of it yourself. Those are the only things that involve more than one person.