Analog Digits Font Pack volume 2
A downloadable font pack
Get this font pack and 15 more for $50.00 USD
View bundle
The Analog Digits Font Pack, volume 2 is a set of layer fonts imitating VFDs displays, eggcrate displays, and lightguides! The fonts in the pack are:
cursiv8, for making 8-segment displays styled after handwriting, based on the Sharp EL-8 calculator
tEggst, for making the analog pixel eggcrate displays
reLix, for making edge-lit etched lightguide displays
Each font comes in .otf, .woff, and .woff2 formats. The pack also comes with a user guide (.pdf and .txt) providing information about the fonts, how to use them, and a little bit about the technologies they're based on.
What are layer fonts?
Layer fonts are fonts with different 'layers' that you overlap to make a more detailed image. For example, reLix comes with 4 main layers: the outline of the display unit, the lit etching, the stack of unlit etchings in the display unit, and the background of the display unit. By changing the colours of the different layers, and applying effects like glow, blur, or shadow, you can quickly and easily make old electronic hand calculator displays, sports/gameshow scoreboards, and 1950s-60s scientific/business computer readout graphics!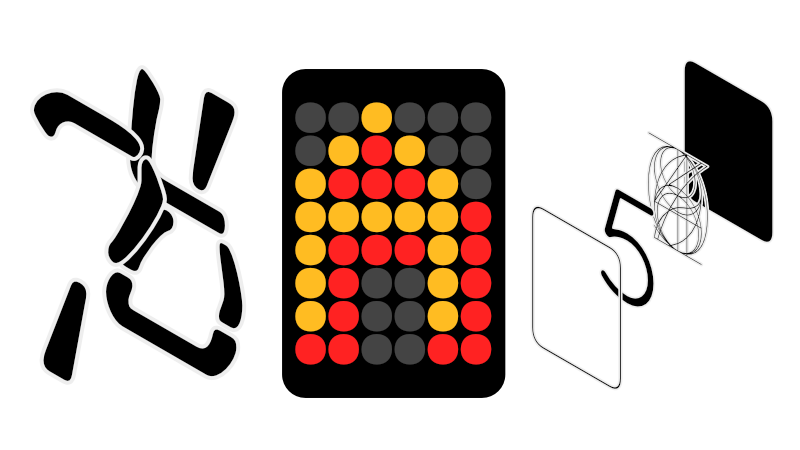 What's in these fonts?
Each font is geared towards numbers (that's why this is the Analog Digits Font Pack). They all have regular numerals and a few other pieces of punctuation and maths symbols. The exception is tEggst, which is a full-text font with a wide range of Latin-script letters as well as numbers, punctuation, symbols, block/box-drawing characters, and even rare legacy computing symbols.
These fonts are not full-text fonts. Except tEggst.
Each font also has a bunch of OpenType features that let you customise how they look!
What's the license?
Once you buy the font pack you can freely use the fonts in personal and commercial projects, and edit the font files, as long as you don't redistribute (commercially or freely) the original or edited font files in themselves.
Credit and/or a link to this page are much appreciated, but not necessary.
The demo version can be downloaded for free and used in non-commercial projects only.
Analog Digits Font Pack, volume 1
Here's the first volume, with the fonts reNix (Nixie tubes), nimoType (Nimo tubes), and fluoWrite (VCR vacuum fluorescent displays).
More fonts!
Here are some of the other typefaces I've made—find more details on their itch pages, and more fonts and other tools and assets in my Tools and Guides collection!
Purchase
Get this font pack and 15 more for $50.00 USD
View bundle
In order to download this font pack you must purchase it at or above the minimum price of $4.50 USD. You will get access to the following files:
Analog Digits font pack volume 2 v1_0.zip
2 MB
Download demo